How to Reset & Unlock Forgotten Windows Phone Password
Windows OS is one of the most trending Operating System and is also now used in many of the Smartphone's Like HTC, Lumia, etc. Sometime the windows user forgets the password of Mobile phone and face trouble while unlocking the Windows Smartphone. Here in this How To tutorial, I will explain an easiest way of resetting and unlocking the Windows Smartphone by using the hard reset method. Just follow the step by step instructions to recover the password of windows operating system.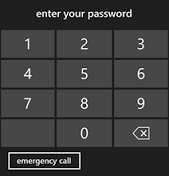 Note: Hard Resetting of Windows Phone will erase all the personal data like apps, content etc. So think twice while performing the same. We are not responsible if something wrong happens.
Step1: Firstly ensure your Windows Smartphone has enough battery. If your phone does not has enough battery life then first of all charge your phone and after that try the below mentioned steps.
Step 2: Now Disconnect the charger and switch off your phone.
Step 3: Press and Hold the Volume down key of windows Smartphone and connect the charger. This will show an exclamation mark (!) on the Smartphone's screen.
Step 4: Now Press the keys in the same order as given below:
Volume UP
Volume UP
Power Button
Volume Down
Step 5: Now you have all done, just wait for up to 5 minutes. After the screen of your phone will become blank for approx 30 seconds and then your phone will restart.
Step 6: After that just complete the initial phone setup.
Step 7: Disconnect the charger and you have successfully recovered the password of Windows Phone
Conclusion:
Here in this How to Tutorial, I have explained an easiest way of resetting and unlocking the Windows Smartphone. In case, if you need further assistance or facing issue while trying the above mentioned steps then start the discussion by commenting below.