What is .PHP File Extension?
Identify the Specifications of AJAX file Type:
Developer:
Zend Technology
Format Type:
Text
File Category:
Web Files
MIME Type:
application/x-httpd-php
text/php
application/php
magnus-internal/shellcgi
application/x-php
Supported Platforms:
Microsoft Windows, MAC OS X and Linux
What is Full Form of PHP File Extension?
The PHP Stands for Hypertext preprocessor and also known as personal home page.
Detailed Information About PHP File Extension
The .php is a file extension used for web pages written in PHP language. Mainly PHP is an open source server-side scripting language designed for web development. PHP is very popular for developing web based applications and can be easily used by programmers. It is a highly used language for creating web pages with dynamic content that relate with databases.
PHP code is may be embedded into HTML code, or it can be used in combination with various Web template systems and web frameworks. index.php is the default file to be open when a client requests a directory from a PHP-enabled Web server.
What is the Structure of PHP File Format?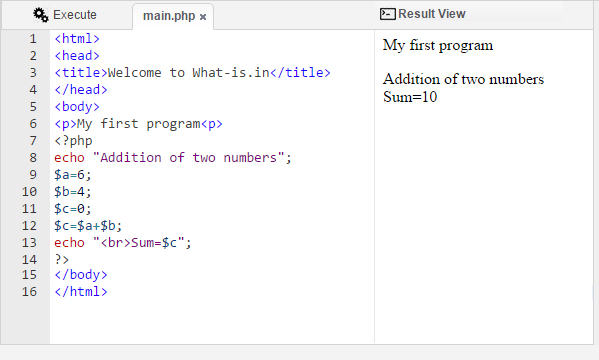 How to Open or Edit PHP File Format
What Programs Can Open PHP Files in Windows OS?
Internet Explorer
Adobe Dreamweaver
WampServer
XampServer
Apache Web Server with PHP
Blumentals WeBuilder
Zend Studio
Notepad++
Application to Open PHP File in MAC OS X
Internet Explorer
Adobe Dreamweaver
Zend Studio
MAMP
All Text Editor
MacroMates TextMate
Apache Web Server with PHP
Sublime Text 2
Bare Bones BBEdit 10
Software to Open or Edit PHP File in Linux:
Internet Explorer
All text editor
Zend Studio
Eclipse PHP Development Tools
Apache Web Server with PHP