What is .HTML File Extension?
HTML File Format Specification:
| | |
| --- | --- |
| Developer: | W3C & WHATWG |
| Primary Association: | Hyper Text Markup Language |
| Format Type: | Text |
| File Category: | Web Files |
| MIME Type: | text/html |
| Supported Platforms: | Windows, MAC, Linux and Android etc. |
| Default Location: | User Defined |
What is HTML Full Form, Meaning?
HTML stands for Hyper Text Markup Language.
Get Detailed Information about HTML File Format
The .html file extension is a HyperText Markup Language file format used for static web pages. HTML file contains text, images, tables, and other content in respective tags, enclosed by angle brackets. HTML can also be used to embed CSS (cascading style sheets) and Javascript. The HTML specifications have been maintained by the W3C (World Wide Web Consortium) since 1996. The latest version of HTML is 4.01 although HTML5 is in a draft phase.
An HTML file type can be primary open or view with Internet Explorer and also in another web browser such as Google Chrome, Mozilla Firefox and Opera etc. You can also see its structure by viewing the page source.
Note: HTM is also the same file type used on DOS-based computers which can not understand file extensions more that 3 characters.
What is Structure of an HTML Document?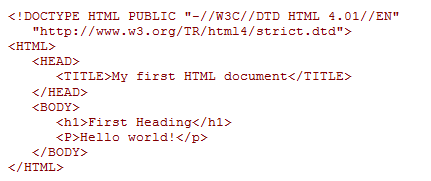 How to Edit or Open HTML File Format?
There are several applications, text editors and web browsers by using them you can open, edit or view an .html file type. So get software applications which can open the HTML extension in different operating systems.
Programs Can Open HTML File in Windows OS
Microsoft Outlook 2010, 2013 and 2013
Microsoft Outlook Express
Microsoft Windows Mail
Microsoft Windows Live Mail
Mozilla Thunderbird
Mozilla SeaMonkey
Perion IncrediMail
IBM Lotus Notes
Open HTML Files in MAC OS:
All Web browsers
All text editors
Adobe Dreamweaver CS5
W3C Amaya
Adobe ColdFusion Builder 3
KompoZer
Software to Open or View .html Extension in Linux
Open HTML Files in Linux:
All Web browsers
All text editors
KompoZer
W3C Amaya
SCREEM
Open HTML Files in IOS or Android: