How to Reset Android Pattern After Too Many Wrong Pattern Attempts
Too Many Wrong pattern attempts is a most common error faced by the user of Android device after entering too many (20) wrong pattern to Unlock Android Device. These situations lead to the Phone Lock.
Don't worry if you have got stuck in such a situation. Here in this article, I am going to explain easiest way of Unlocking the Phone after Too many wrong password attempts.
In this Situation Android Phone starts suggesting you to Login to your Google Account to change the pattern lock. But sometime it is not possible to Login to Google Account through that android device because of unavailability of Internet. May be you have Turned off the Data Connection and Wi-Fi.
So I am going to explain an effective methods of Recovering Android Device pattern After Too Many Wrong Password Attempts. Just follow the steps mentioned below:
Method 1: Using Android Debug Bridge (ADB) to Bypass Pattern Locks
This method will only work if you have enabled the USB Debugging Mode. To bypass pattern lock using Android Debug Bridge first install the Android SDK and Java JDK.
Install ADB on your Computer
You have to Install the Oracle's Java Development Kit before installing Android SDK. Download the kit from here (Download 32 bit (x86) version).
Now Download and Install the Android SDK. If you are getting a java related error during the installation process, ensure that you have downloaded the x64 version not the x64 version of JDK.
Now Open the installed SDK Manager. From here enable the Android SDK Platform-tools. After that click on the Install Button. This will install the platform-tools package and it also contains the ADB and other related utilities.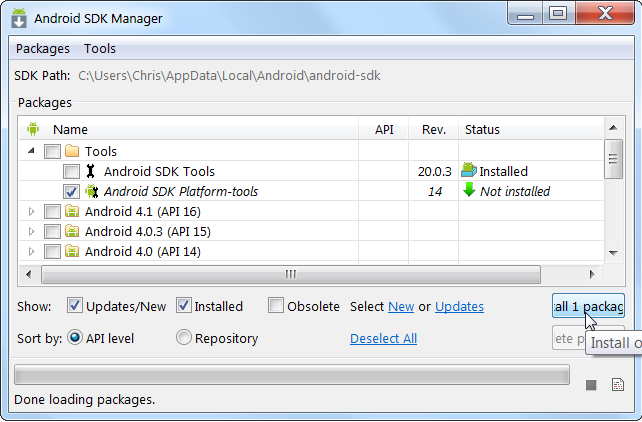 Now Test the ADB and other installed Drivers
For that open android-sdk folder. You can find the location of SDK folder on the top of SDK Manager Window.
If you have installed the tools in default location than you will find ADB at the:
C:\Users\NAME\AppData\Local\Android\android-sdk\platform-tools
If you have installed it in different location then you will find the ADB in platform-tools directory.
From this directory Press the Shift, then right click inside it and then click on Open command windows here.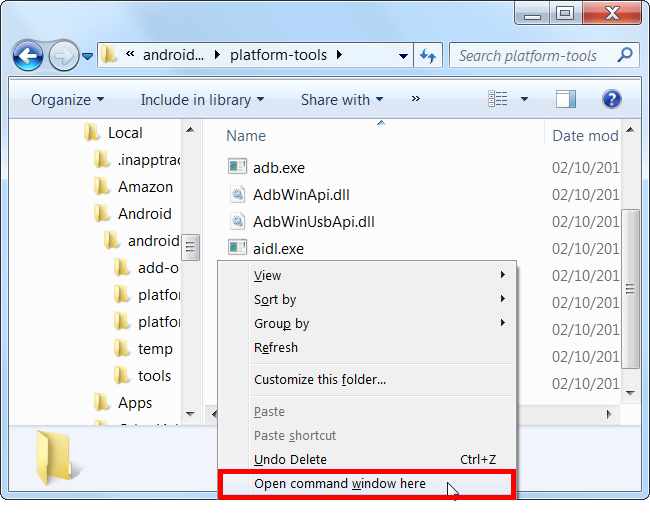 Run the Following commands in ADB
Connect your Android device with Computer and Run the following commands
Adb shell
Rm /data/system/gesture/key
Now Reboot Android Device and run the following commands
Adb shell
cd /data/data/com.android.providers.setting¬s/databases
sqlite3 settings.db
update system set value=0 where name='lock_pattern_autolock';
update system set value=0 where name='lockscreen.lockedoutpermanently';
.quit
Now Restart your Android Device and enter any pattern lock. Your device should accept all the pattern lock now. If you are getting any error during this process comment below with the error code.
Method 2: Unlock Pattern if you have disabled USB Debugging Mode and Data Connections
Note: This method will delete all your apps and data so think twice before using this method and do this at your own risk. We are not responsible if something wrong happens
First of all Switch off your android device.
Now hold the buttons together at same time ("Power Button + Home Key + Volume up") until your android phone reboots. (Just Press the Power Button and Volume Up button if your device does not has home button).
A new DOS Like Screen will come along with the different options. From here Select the "Restore Factory Defaults" if your device is showing this option otherwise select "Delete all User Data" (Use Volume Up and Down Key to move up and down).
After that click on Reboot System Now and wait until your Android Phone Reboots.
Method 3: Unlock Pattern Using Google Account (Data Connection should be enabled)
You can use Google Account (if you have Configured Gmail ID with your Android Device). For that just enter the Gmail Credentials and reset the new pattern.
Conclusion:
Here in this How to tutorial, I have explained some methods of resetting the pattern of Android Device. If you are facing any error or difficulty while performing the operation then just start the discussion by commenting below.