Fix Autodiscover Error Code 600 in Exchange
AutoDiscovery service is one of the important feature introduced in Exchange Server 2007 and the latter versions. The autodiscover helps in configuring and maintaining the server settings for the systems that are running MS Outlook and mobile devices. The main role of autodiscovery is to provide the access to the features (OAB, UM, etc.) required for clients that are connected with our messaging environment.
Microsoft Outlook needs the help of Autodiscovery service to find the required details to configure exchange server account. In case if Autodiscovery is not configured properly will result in Autodiscovery Error 600 Invalid Request.
How to Resolve AutoDiscovery Error Code 600
To troubleshoot the AutoDiscovery Invalid Request Error Code 600 Open your AutoDiscovery.xml file by using the URL: https://<your domain name>.com/autodiscover/autodiscover.xml.
This will open your Autodiscovery.xml file and it looks like this

If you are able to open this file means your CAS server is working properly. If you are unable to open your XML file then just replace the CAS IP address with the entered domain name and it is opening now means DNS is not working properly and is not able to resolve the IP address from the domain name
Follow the Steps mentioned below to resolve the AutoDiscovery Error Code 600
You can perform two tests given below to ensure that whether your AutoDiscovery is working or Not:
1). Perform Test Within Network
2). Perform Test Outside the Network
Perform Test Outside the Network: To perform the test outside the network just use the free Exchange Connectivity tool of Microsoft. Just open the URL www.testexchangeconnectivity.com to run the test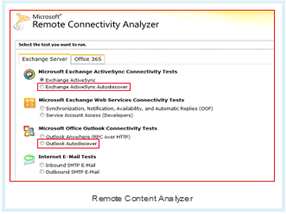 Here you will find two main options to Test whether autodiscovery is configured or not. The options are Outlook Discover and Exchange Activesync AutoDiscover. Select any of the desired option and click on Next button to resolve AutoDiscovery Error Code 600.
In the Next Screen, Fill the required details and click on Perform Test.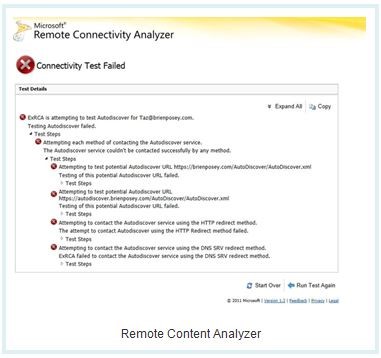 If there is an issue with the AutoDiscovery configuration then you will receive an Error Connectivity Test Failed.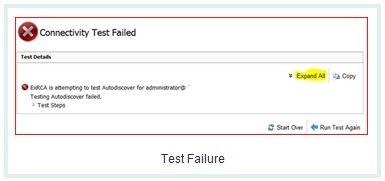 Perform Test Within the Network: To perform test within network, Right click on the Outlook icon from the System Tray. Hold the CTRL button and then click on Test Email AutoConfiguration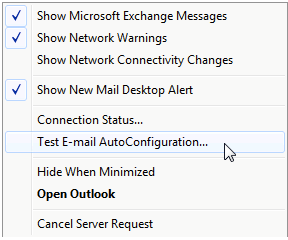 Now Enter the Credentials, Enable Use AutoDiscovery and Click on Test button to Fix AutoDiscovery Error Code 600.

If you are not able to resolve the error by using the steps mentioned above then cross check your firewall settings. In the firewall settings you have to verify that Port 443 is Open for CAS Firewall. Along with that also verify that the SSL Certificate you are using in issued from the trusted C.A.
Conclusion:
In this How To tutorials, I have discussed AutoDiscovery Error Code 600 Invalid Request. In case if you need further assistance or want to start further discussion, please start the discussion by commenting below: